Hey y'all! just wanted to share my haul I got from Hautelook.com on a bunch of products from NYX cosmetics. : D I heard of Hautelook.com through a friend on tumblr and I decided to try them out. So far, I am pretty happy with the result! I got a NYX make-up kit for $18 when I believe that they normal go for around $35-$40 and I got the NYX glosses for a total of $18 dollars as well when each individual box goes for around $6-8 a piece. So I guess I saved around $6-$14 dollars for the whole group.
The only thing that kind of sucks about the site is that it takes almost 2 weeks before they ship the product. I don't know why that is, it might just be because they are waiting for the sale to end or who knows why else, but, for me atleast, if I am going to get a really good deal on something, I can wait a little longer for the product to arrive. The only other issue I had was that my NYX palette had a BUNCH of pink dust inside of it because one of the blush palettes came loose and was flying around in there. BUT, the blush didn't break, so that's good. Overall though, that doesn't bother me as its pretty typical for palettes to come loose in these sort of things. So whatever, it took some clean up, but I'm not upset about it.
I read that they really don't have the greatest customer service, but again, I didn't have any issues so I really don't know. O: I am going to provide y'all with my invite code, so if you decide that you want to try them out, then you can sign up through me. :3
http://www.hautelook.com/invite/BHerst463
They have new sales every day and they only last a few days, like a week tops, so if you see a brand you really like, its best to jump on the sale as soon as possible. There was some other NYX stuff I wanted but I joined late and the things I would of liked were already sold out.
Alrighty, so on to the pics!
First of all, I bought a BUNCH of little lip glosses because they were all so adorable! I will never ever use this much lip gloss in my life, but they were really cheap on the site, so I just bought all the ones they had available. I'll probably end up giving away a few to family but I have to pick which ones I like the best first. X3 I like these glosses because not only do they smell nice and look cute but they are also tinted. I never liked buying glosses when I was younger and having them look like they were a certain color in the tube/container and to find out that they applied clear. So, almost all of these have some sort of color.
Here they are in their boxes:
The 1st set of cupcake glosses.
The second set of cupcake glosses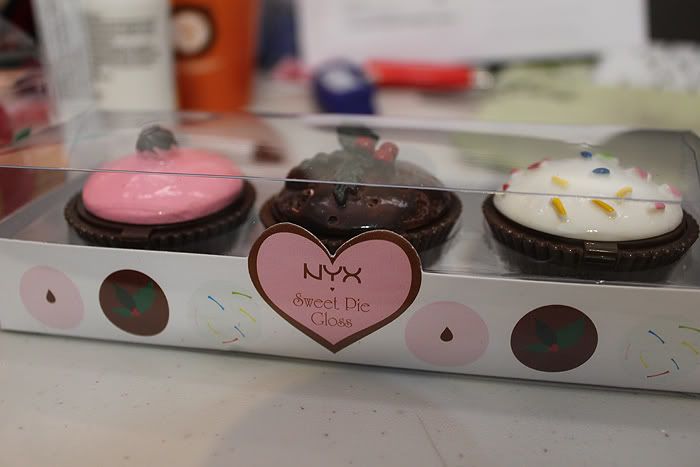 The pie glosses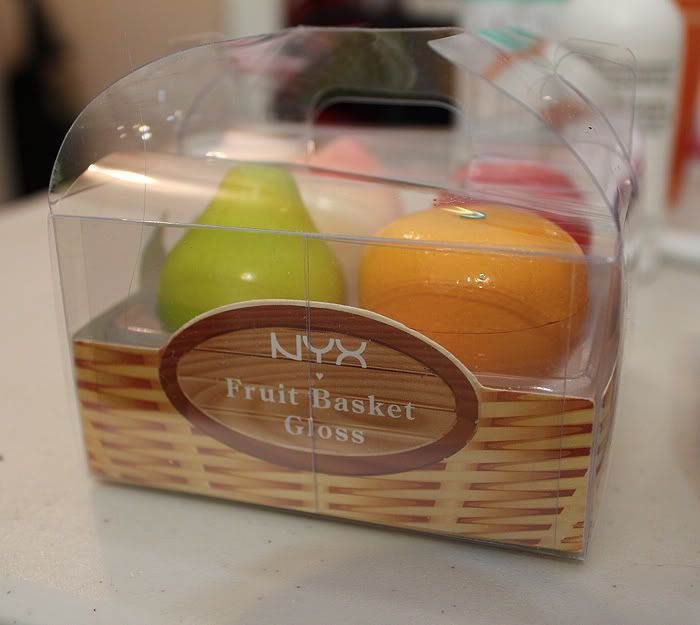 The fruit glosses, my favorites!
Here's come close-ups of the glosses themselves.
The fruit ones, in case you couldn't tell, the flavors/colors are pear (clear), orange (orange), apple (red) and peach (pink)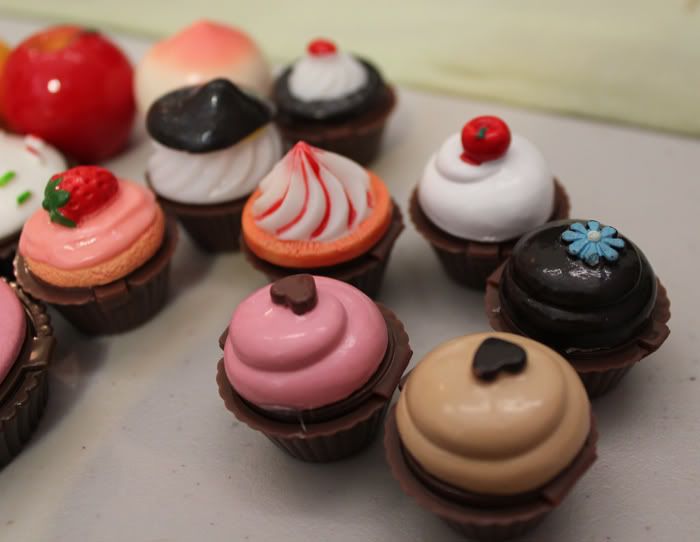 1st set of cupcake glosses. The light brown topped one is banana (believe it or not) and is a yellowish gloss. The pink one is strawberry and is, of course, pink. The one with the blue flower is Vanilla and is a sparkly white. And the White topped one is Apple and is a dark pink.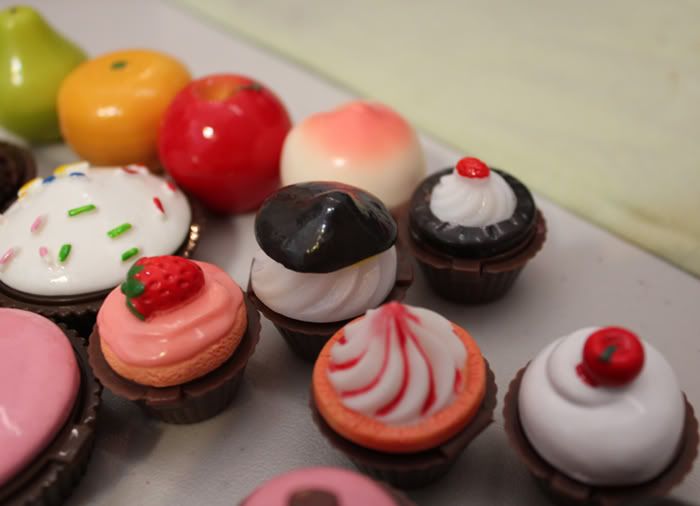 Second set of cupcake glosses. The swirly one is Orange (color and flavor lol, although a much darker orange than the fruit one). The strawberry topped one is Strawberry and is kind of a neon pink. The white one with the dark brown blob on top is a Chocolate flavored one and is clear. And the one with the white frosting and a cherry on top is Cherry and is bright red.
The pie glosses. The pink topped pie is Strawberry again and is light pink. The holly topped one is Chocolate, but the color is orange, which is really strange to me XD. And the sprinkled one is Cherry and is red.
Alrighty, now on to the NYX Make-up artist kit palette! :D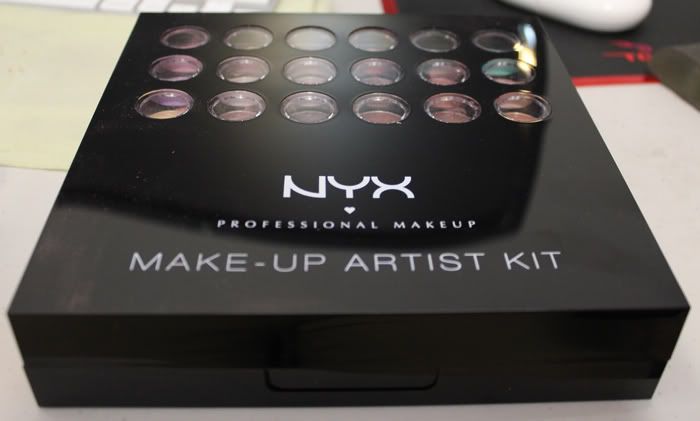 I just wanted to show the size, because I seriously thought that it was going to be pretty small, like half or even a quarter of what I actually received. So, least to say, I was very pleasantly surprised. : D
First level, which is the shadows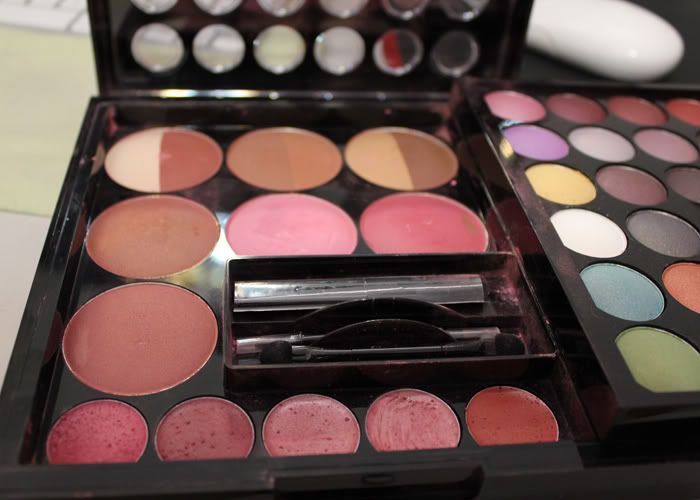 Bottom level which is the bronzers, blush, and lip gloss. Also, the applicators. There is a lip brush, 2 eye shadow apllicators and mini blush brush in there. This is where you can see the pink powder everywhere that I was talking about X3. I only cleaned it up minimally for the photo, so its bunched in the corners and stuff still.
And the whole thing together. You can see it also has a little mirror attached as well. : D
Overall, I have to say that I am really happy with this! I'm going to experiment with my new shadows soon and show you all some new stuff. Probably next week though as I have a really awful cold right now and I don't want to be taking pics of or video taping my awful red, runny nose. X3
So, see y'all soon! <3