So, as I promised! I wanted to show how I do some looks that I wear. Honestly, every day I am trying different color combos so I will post the ones I find more successful and fun here. I love this color combo and its really wearable in my opinion and really pretty. It reminds me of an apple blossom, thus why I call it that. *wink wink* All of this was done with Sugarpill cosmetics, as it's the only eyeshadow I own right now! lol
Here it is: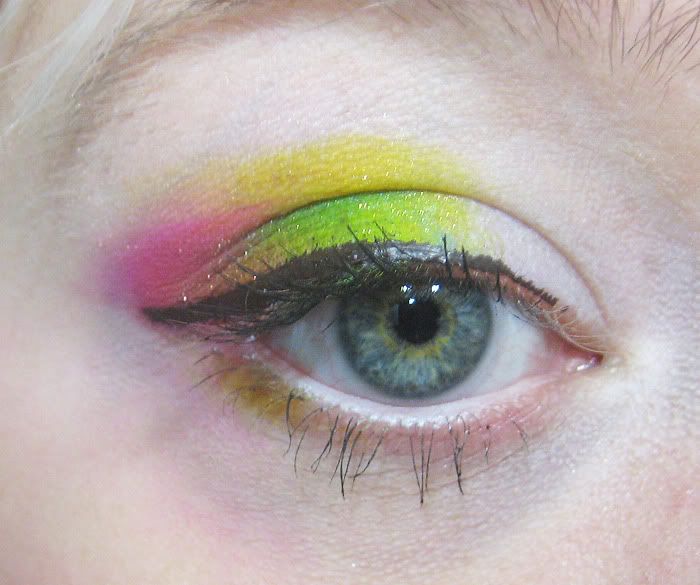 So, I took pics along the way to show the process. There is really nothing to it and can be done in like 5-10 mins.
First, I start with my bare eye (I'm just showing this just so you can see the difference when i put eyeshadow base on):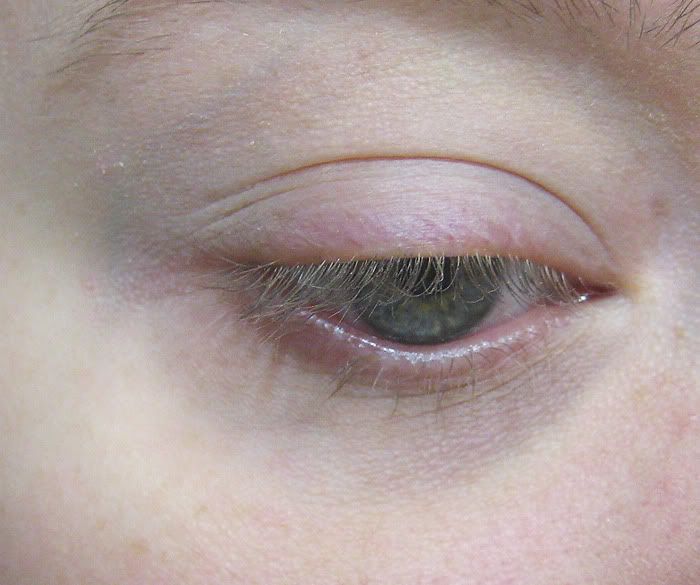 Then, I add my white
NYX eyeshadow base
: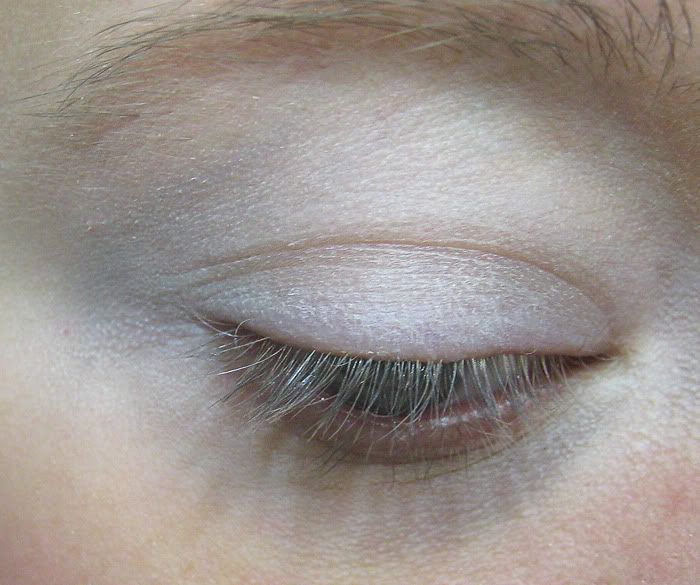 I guess there isn't THAT much of a stark difference as my skin is already incredibly white! BUT, it does make a difference in the color of the eyeshadow! The colors will be much more vibrant if you put the white base on underneath it. I got this base at my local ULTA. I think it was a tad pricey but I have been using it for a month now and have barely used any of it, so it lasts quite a while, I'm sure!
Next, I add the yellow (
Buttercupcake
) to half of my lid all the way to outer edge. In retrospect, it's probably best to leave the edge of the lid bare for the pink, but the colors are bright enough that they do alright regardless.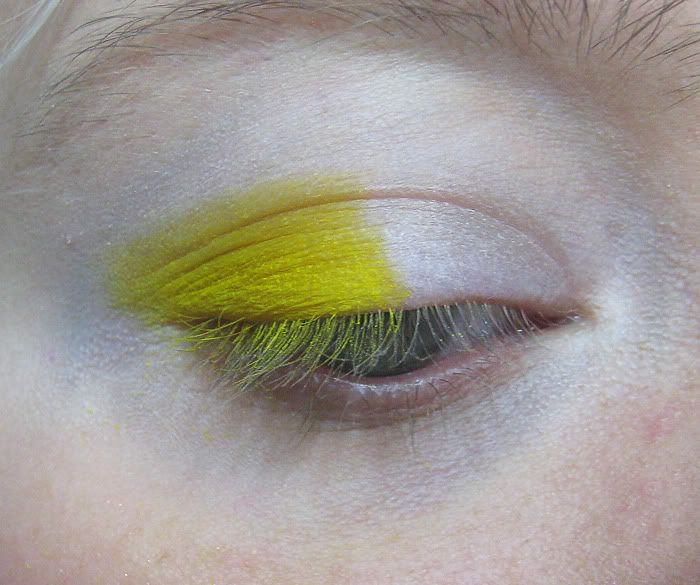 Then, I add blue (
Afterparty
) on top of the yellow to start making my green. The only reason i do not use
Midori
(which is their pressed green) is that it has more of a blue tone instead of a yellow toned green which looks better in my opinion. (PS. It is my hope of hopes that they make a pressed apple/lime green soon, like their loose shadow
Absinthe
)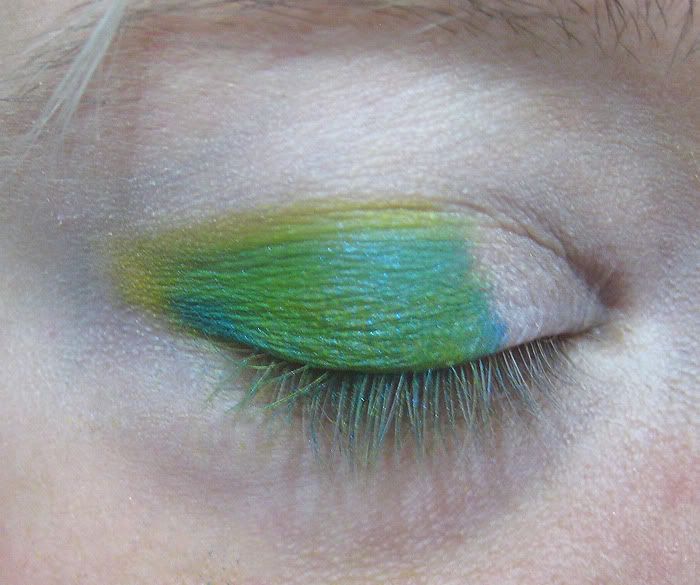 Since the blue on top looks REALLY blue-green, I add another layer of yellow to make it the yummy apple green I want.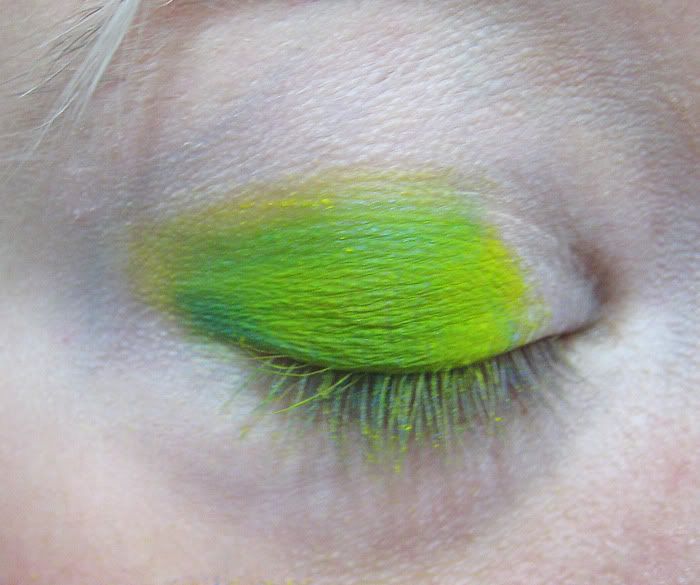 Then I take the pink (
Dollipop
) and I fill the outer corner of the eyelid. I make it extend pass the lid a bit with a rounded feather.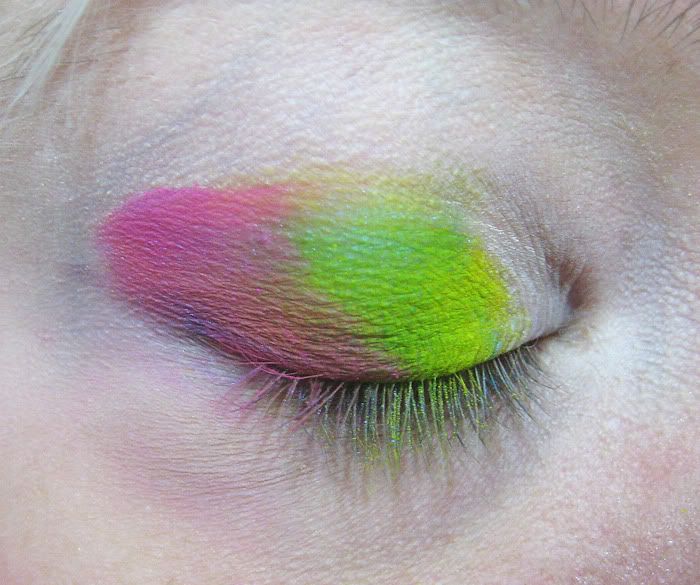 And, that is all that is really needed! Before I add the eyeliner and mascara, I take a clean brush and blend the outer rim of the pink and where the pink and green meet. I also take a little more yellow and place a bit above the crease and a bit on the very outer corner of my under-eye. I also wanted a little shine so I added a sheer-white glittery shadow on top. You can do this with Sugarpill's
Lumi
as well.
To finish this took, I take my eyeliner (for me, I prefer a brown, liquid liner. I think it's
Maybelline's Ultra Liner
. No real reason i pick this one. It's just cheap and it gets the job done!) and only put liner on the top lid in a cats eye style. This is just my preferred method as well. I find that dark liner only on the top lid looks great for me. I do not go completely naked on the bottom lid though, I do add white eyeliner into the inner portion of my bottom lid.
Lastly, I add black mascara on both my top and bottom lashes. And Voila! You are finished : D