Hey all! I wanted to do something fun and since it's close to Halloween, I decided to do some crazy makeup. I thought about it and decided that I wanted to do Elvira : D Also, I am dressing up in my kimono for Halloween, so next week I will have a Geisha-ish makeup to show, so look out for that!
Anyway, here is the look!
And of course, this is mostly done with Sugarpill! :D With some Rimmel and OCC thrown in. I would say it takes about 30 mins, so be prepared to work on this one! It also took a few tries to get it right for me. So, it might be good to practice!
So, to start, we are going to use an eyeshadow base. As I've mentioned before, my preferred one is
NYX
. Then, I took
Afterparty
and made a line down my eyelid, about 2/3rd of the way down. Elvira's actual makeup goes up past her brow and onto her forehead, BUT I toned it down a tad and just had it go to the brow line.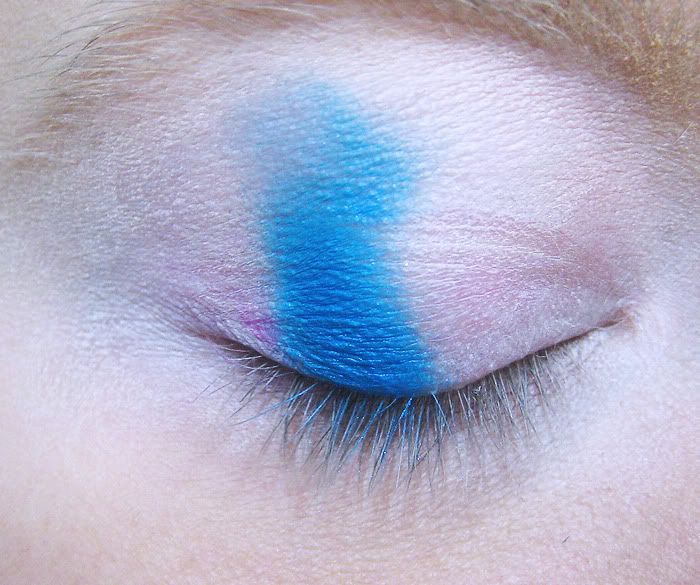 Then I took
Dollipop
and covered the rest of the area, extending it a bit into the tear duct.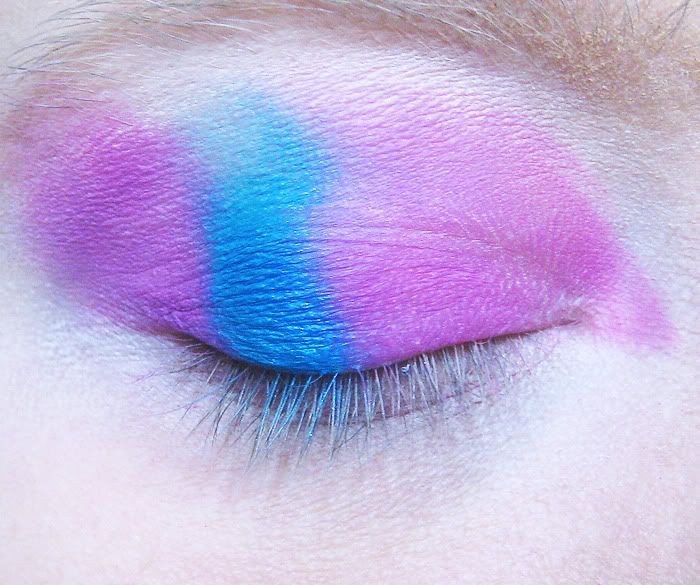 Then I took
Bulletproof
and applied it along the last line and feathered it past the lash line. I also took it and applied it into the crease.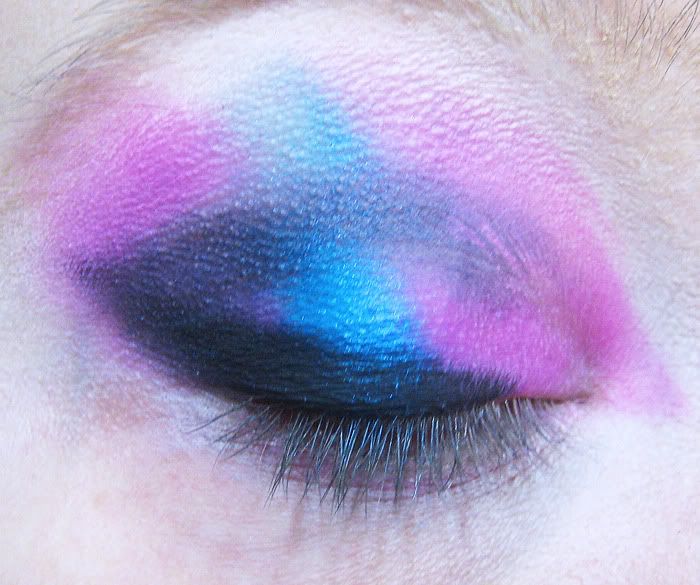 Next, I took a white eyeliner pencil and applied it into the lower eyelid, and extended it into the tear duct and ended it at a point.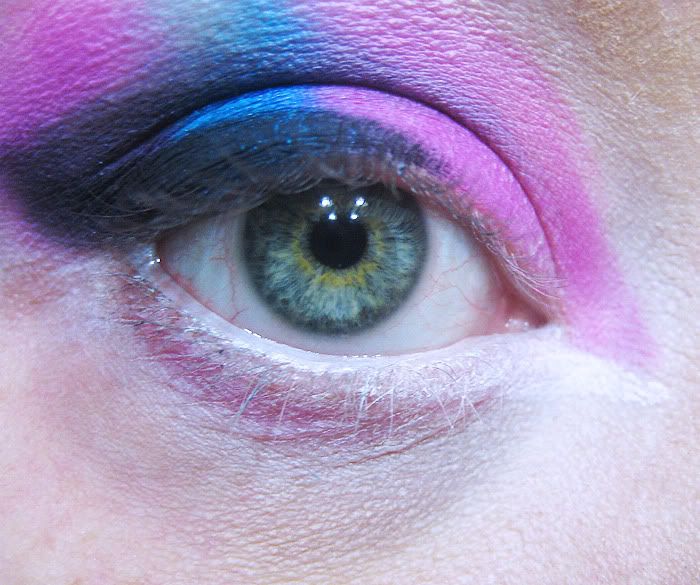 I took my liquid liner and applied it in a cats eye on the upper lash line and extended it from the very corner of the tear duct outward to wear the nose just starts to protrude. Then I made a line directly under the bottom lash line as well and connected the two lines. My liquid liner is brown, so it is not really best suited for this, so I would suggest a black liner instead.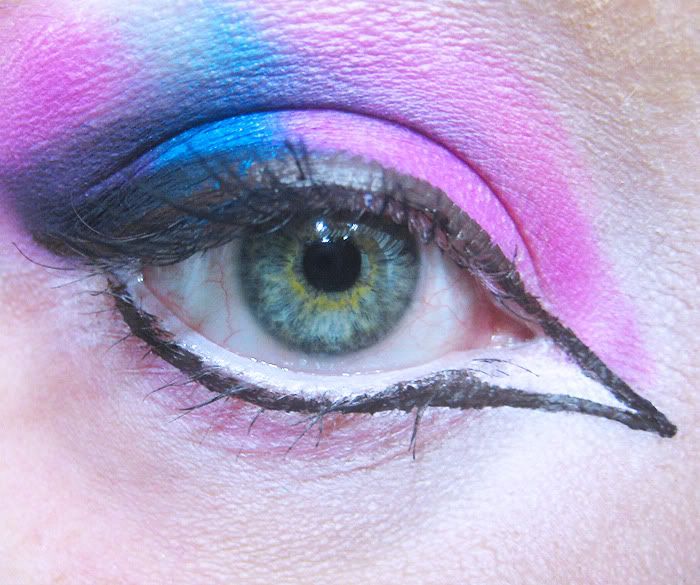 Lastly, I took
Love+
and Dollipop and blended it on the lower lid, all along the bottom liner line.
Then, add mascara and some false lashes and you are done with the eyes!
For the blush, I took my normal blush and a little Love+ and applied it along the cheek bones. you need to apply it in a broad line. I find it's easier to apply if you hold your brush like so:
The result looks like this: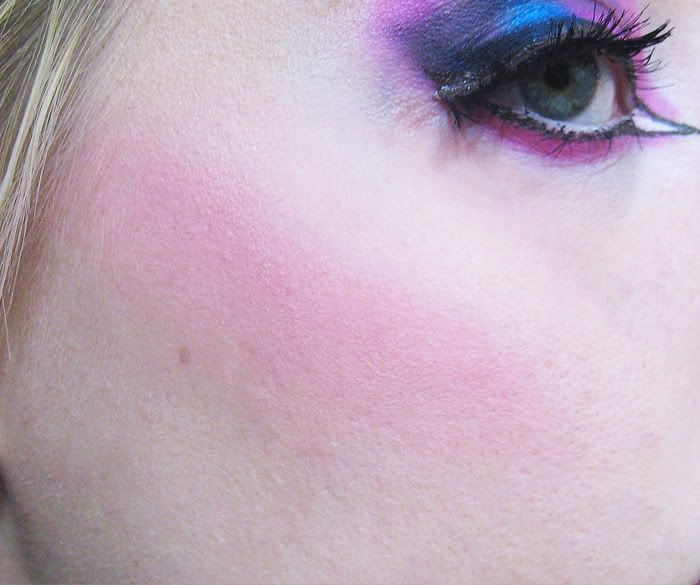 For the lips, I used two products:
NSFW
by OCC and
Eternal Kiss
by Rimmel London. It's hard to tell in the image, BUT I took Eternal kiss (which is a purple/red and much darker than NSFW) and applied it on the inside of the lips, then applied NSFW on the remainder of the lip. I added a clear gloss and voila! You have a nice glossy red lip.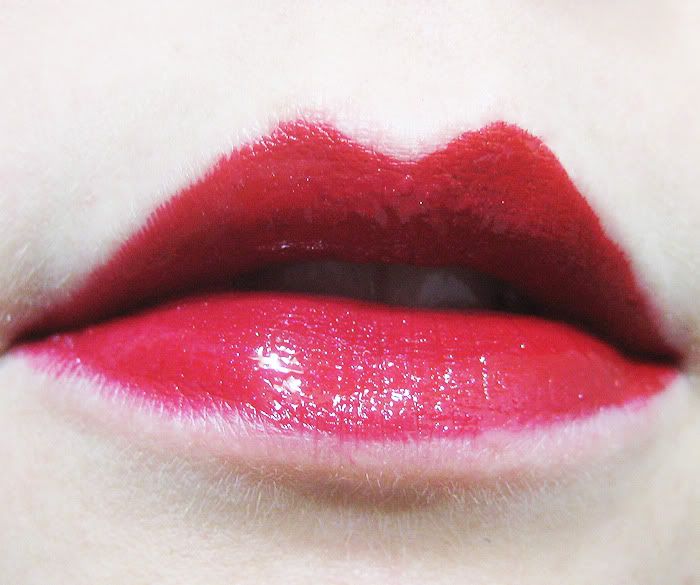 That's it! Here is another view of the finished product. HAVE FUN!