Hello again! Time for the second round of Halloween make-up! : D Sorry, for it being a tad late, I was waiting for some new makeup to arrive and it finally did today!
Anyway, this is the makeup I will actually be wearing myself this year! I have 3 kimonos in my possession and I practice Kitsuke (the art of wearing kimono), but alas, it has been awhile. D: So, I wanted to find an excuse to wear them again and what better excuse than Halloween! : D
This is the lovely I will be wearing, it is the first time I will be wearing it! O: It's a Furisode which is the most expensive type of kimono because they are often the most intricate , but I got it for a bargain some time ago.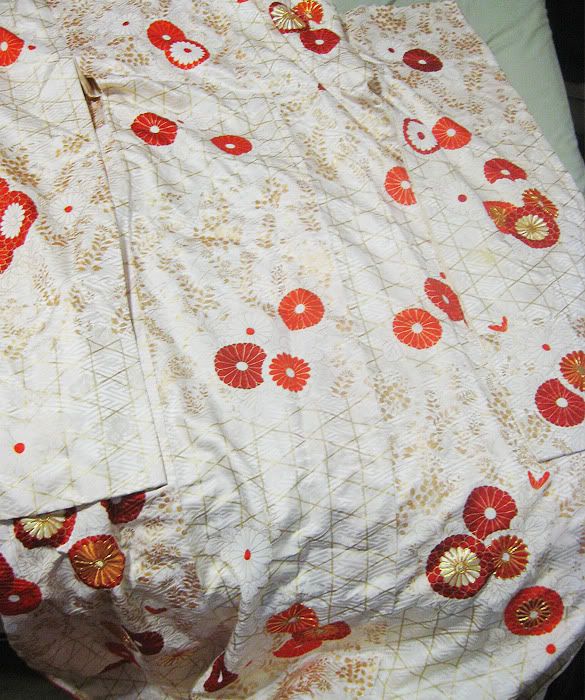 And here is the look! Again, all of this was done with like 99%
Sugarpill
. I totally seem like a stalker by now XD
So, let's get started!
Face Prep:
For this one, you really need your face to be as pale as possible. I did not want to cake my face with white halloween make-up, so I opted to try something different. First of all, I do not really wear foundation. I have relatively clear skin and I am pretty pale, so I really don't need much to cover up. So, for me, I just applied my normal face powder first as a base. Then I took
Tako
and used my large brush to apply it to my face. Then I took my NYX eyeshadow base and applied it to my eyes and lips. We want a full white face here peeps! O:
Here is my uggs self (without makeup) before and after all white application. I swear, no matter how much it looks it, this is not a mugshot! lol: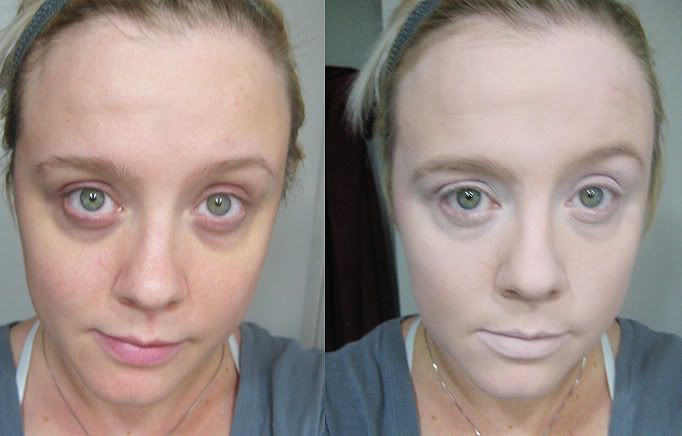 MOVING ON
Eye Makeup
:
The first I do is take
Dollipop
and apply it to the whole outer portion of the eye, both on top of the eye and underneath it. There isn't any real logic to this, I'm just mostly doing what I feel looks good and dramatic:
Here's both eyes: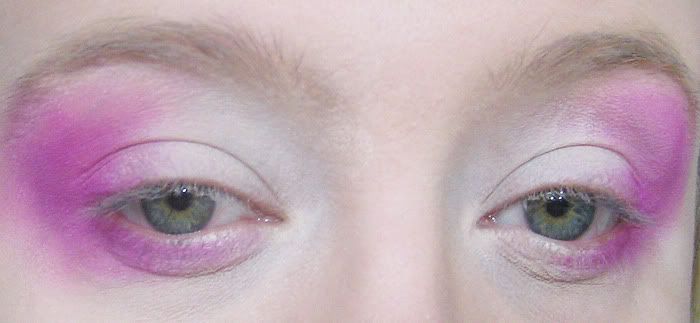 Then I take
Love+
and feather is out from the corner of my eye and somewhat underneath the eye as well, like so: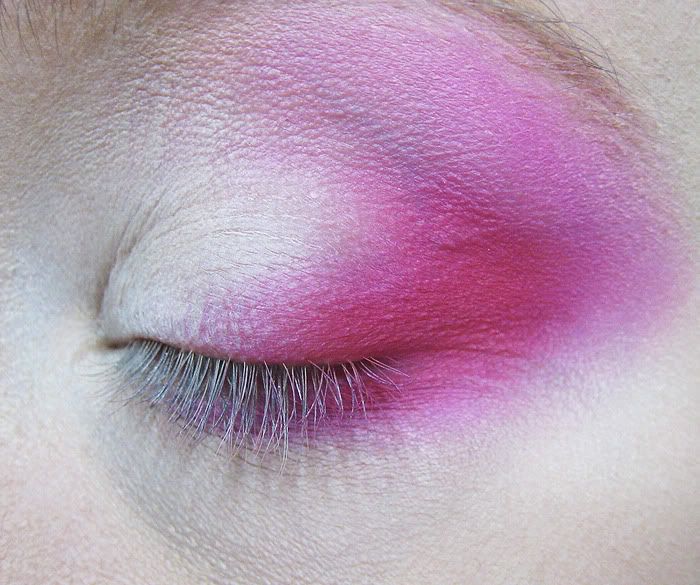 Then I take a small amount of
Buttercupcake
and apply it near the tear duct on the upper and lower lid:
Next, I apply my liquid eyeliner in a feathered/cats eye shape. I also take
Bulletproof
and accentuate that feather:
Liner:
And shadow:
Lastly, I add my falsies and the eyes are done! :D
Also, since I will be wearing a black wig (which is not in my possession yet) and I have naturally blonde hair, I need to have my eyebrows match. So, I take a eyebrow pencil and fill in my brows. Next, I take Bulletproof again and ever so lightly apply the black shadow on top. This is what it looks like before and after: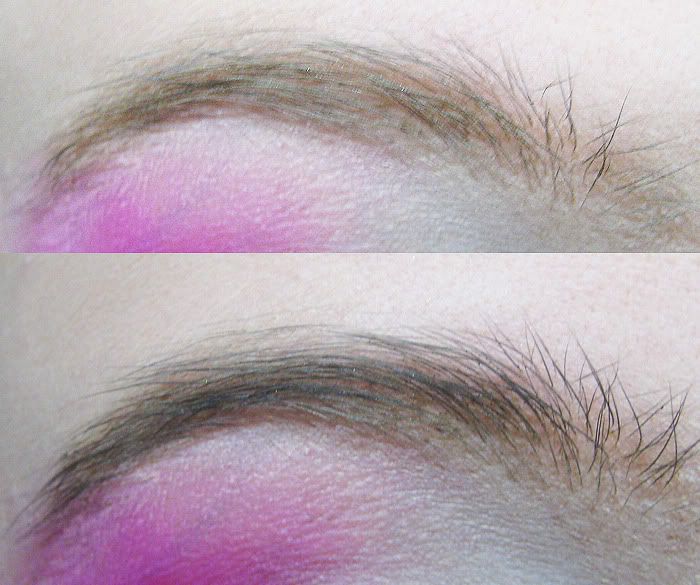 Lips:
Typically, the Japanese view very small lips as sexy. Therefore, the Geisha typically only fill in a portion of their lips when they apply their makeup. I want to do the same here. You can fill in as little or as much as you like, this was just my personal preference. I take my lipstick brush and I apply
OCC's Demure
to all of my bottom lip but only a portion of my top lip. Think of doll lips and how they often look the same way.
I picked Demure because it picks up on the pink in my eyes. But, I also add NSFW on top in the inner portion to give it a little depth. The end result looks like this:
Retouch areas that might of been smudged or need more definition and you are all done! Here are some more pics of the final result: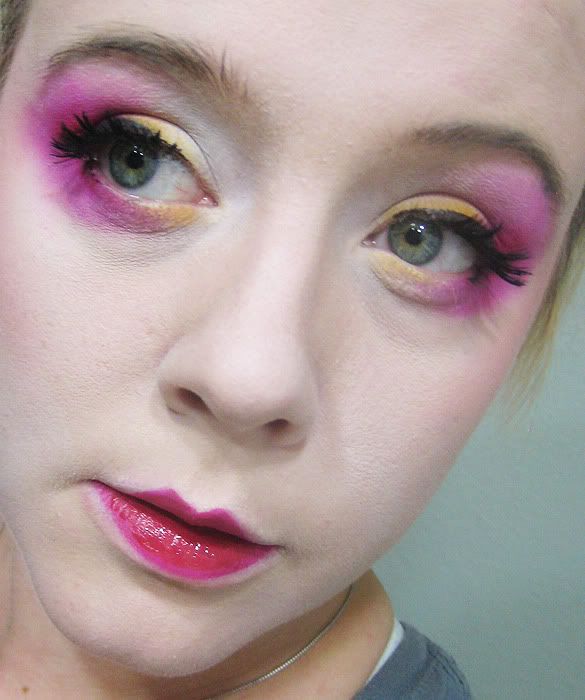 I will be sure to add pics of the whole look when I do it for real this weekend! : D